Follow StupidFox:

Facebook

Twitter

deviantArt

Subscribe
---
---
---
StupidFox Stickers and Merch on RedBubble:
REDBUBBLE STORE

Plushes, Books, Official Store Here:
STUPIDFOX STORE

(I do not control the poster sales below; sorry!)

Rainbow Attack Poster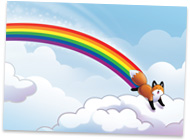 A large poster, printed on thick Gloss Art 170gsm paper.
190 - Pool Party
---
Small sacrifices can be rewarding if they bring joy to others.
---
NEW: StupidFox Stickers and stuff now on Redbubble!
Check out the RedBubble Store Here!
10th January 2021
Share StupidFox:
Tweet
Latest comic in your News Feed:
---